Excuse our Dust!
This new website will be completed soon. To order:
1. Print the Fax ordering form below. Fill in your order and fax to: 305-667-3572.
We will fax or Email you back a final invoice.
Or
2. Email your order to sales@fishcards.com and we will reply promptly
sales@fishcards.com
We have some great specials for everyone that orders during our transformation.
THANK YOU
Ms fishcards
Temporary ordering information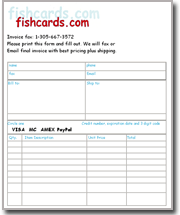 Click this image and print